Reading Time:
5
minutes
Ice Plant
One of the best spots in St Augustine for a drink and a meal is Ice Plant Bar. The bar is actually located inside a historic ice plant and the building dates back to 1927. On the food menu, you'll find Southern staples.
Columbia Restaurant
This restaurant serves hungry diners a mix of Spanish and Cuban cuisines, with things like black bean soup, Cuban sandwiches, and the original 1905 salad, that's made the exact same way it has been since the restaurant's opening.
Llama Restaurant
One of St. Augustine's most notable fine dining restaurants is Llama Restaurant, where Peruvian cuisine is the star of the menu. Each of the dishes is made with authentic ingredients and locally sourced produce. The dinner menu is filled with items like ceviche made four different ways and savory pork belly with Peruvian-style pesto cream and tagliatelle pasta.
Prohibition Kitchen
Right in the middle of the historic district of St Augustine, you'll find Prohibition Kitchen, known for its farm-to-table menu and hand-spun milkshakes. The dimly lit eatery looks to the Prohibition era to dictate the environment – even the menu looks like a newspaper from the front, with a full list of drinks and food items on the back.
The Floridian
The Floridian, where local producers and growers are spotlighted throughout the menu, changes seasonally. The menu is filled with items like fried green tomatoes with pimento cheese, a spicy fish melt with datil pepper-chipotle mayo, and braised brisket tacos that are made with pepperjack corn tortillas. Bonus points: most of the menu can be modified to be gluten-free.
Meehan's Irish Pub
Meehan's Irish Pub you'll actually find two restaurants in one location. Inside the restaurant you'll find traditional Irish fare like fish and chips and corned beef and cabbage. Upstairs at Johnny's Oyster Bar, you can enjoy freshly caught seafood and a full bar with seating that overlooks the Matanzas River and the Castillo de San Marcos.

Burrito Works Taco Shop
Burrito Works Taco Shop is a small stand that serves up tacos and burritos however you like them. The beach-side dive uses local produce and hormone-free meat to ensure everything is full of flavor. The carne asada-loaded fries and Baja-style fish tacos are what the small restaurant is known for, and for most dishes guac isn't extra.

Collage Restaurant
Collage is located in the middle of downtown St Augustine, but don't let the fight for parking or groups of tourists stop you from getting to this restaurant. The menu highlights local ingredients and the kitchen creates each dish with a finesse usually only found in a fine dining restaurant.

Raintree Restaurant
Raintree Restuarant has been open in St Augustine since 1981, but the historic home that the restaurant is located in has been a landmark since 1879. In fact, the building is one of the only original Victorian structures in St. Augustine. The menu is approachable with items like shrimp and housemade sausage, Kobe beef burgers, and steamed mussels for dinner.

Conch House Marina Resort
Nestled along the shore of Salt Run you'll find Conch House Marina Resort, which has one of the best Caribbean-influenced restaurants in St Augustine. Don't leave without trying the jerk chicken egg rolls, served with sweet and spicy pineapple and datil pepper dipping sauce. And go ahead and sit outside on the deck so you can enjoy the warm Florida sunshine and watch the boats and fishermen as they go by on the inlet.

Gas Full Service
Gas Full Service is the hot spot for sandwiches and burgers in St Augustine. The restaurant makes all of their buns and breads in-house and hand-forms every burger patty. Spicy lovers will want to try the jalapeño popper burger – a half pound burger that's been stuffed with cream cheese, cheddar cheese and fresh jalapeños, then battered and fried before getting all of the traditional burger toppings. 

Catch 27
Catch 27 is a fantastic seafood restaurant that serves locally caught fish, shellfish and seafood to hungry patrons. The lunch and dinner restaurant serves up Southern favorites like deviled eggs with crispy fried oysters on top and smoked salmon spread as appetizers. Entrees include dishes like fish or shrimp with grits and delicate crab cake sandwiches.

The Kookaburra
This espresso bar and pie shop prides itself on serving the most ethically sourced, best roasted, masterfully crafted, expertly prepared products with a smile and some flair.
Relámpago 
Small batch coffee roasted locally! Relámpago appreciates the seasonality of coffee which allows them to experiment with roasting profiles to share with fellow coffee-lovers. From their exceptional pour-overs to their cold nitro brews, they are dedicated to making the finest coffee accessible to everyone.
DOS Coffee & Wine
This coffee and wine shop serves up cheese boards to artisan salads & pressed sandwiches to complement your coffee or cold brew.
Growers Alliance Cafe & Gift Shop
More than just coffee, Growers Alliance offers low acid, pesticide-free, and fair trade coffees. They are on a mission to build a better world by supporting small coffee farms and farmers in their native country of Kenya and throughout other parts of the world.
FarmHand KCHN & Coffee
FarmHand KCHN blends Uptown Scratch Kitchen Food Truck, with the comfortable, funky interior and great coffee of City Bistro to create a new dining experience. Folks are still greeted by the aroma of strong flavorful coffee when they walk in the door.
City Perks Coffee & Vines
A locally-owned coffee shop across from the Castillo de San Marcos National Monument and historic Bayfront, City Perks is committed to providing the best coffee in St. Augustine. 
Luna Cafe
Luna Cafe & Coffee is a micro-roastery offering organic, single-origin coffee alongside a carefully crafted menu featuring locally sourced ingredients in their breakfast, lunch, and house-baked treats.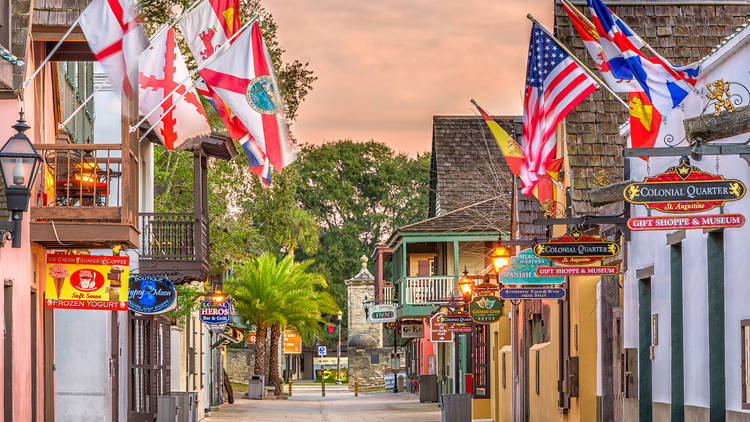 Scarlett O'Hara's
You're in the South, so what better place to celebrate summer than on the famous porch in a pub named after one of our favorite heroines! The food is southern-style comfort food featuring local favorites and homemade cornbread and the drinks?
Boat Drinks
Boat Drinks is a tropical-nautical-themed bar with plenty of oysters and seafood to snack on while you're there! Located in a historic building on historic St. George Street you are sure to enjoy your time here! 
Dog Rose Brewing Co.
If craft beers are your thing, a visit to this pub should most definitely be on your list! Check out the taproom or the handcrafted maple bar, and maybe get into a game of shuffleboard, darts, or cricket.
The Cellar Upstairs Wine and Jazz Bar
The Cellar Upstairs, which is upstairs from the San Sebastian Winery, is a St Augustine hotspot that features wine by the glass or bottle and one of the best beer selections in St. Augustine. There is covered and open-air seating on the patio with amazing views surrounding the marshlands. If you are craving a little something to eat, you can choose from a simple but delicious menu selection of meat and cheese platters to go with your wine.
Cobalt Lounge
Located inside the Casa Monica Hotel, this place exudes class. It is decorated in a classic Moorish style with the bar dressed in a hint of neon blue lighting. Cobalt Lounge is well-known for its classic martini bar and candlelit tables that can set the mood for a night of elegance.